What would be Sartre's reflections about the absurd love of a butcher ? Sartre,love and sausages is my graduation movie at the lucerne university of applied sciences and art, in bachelor animation, 2015.The film has been selected for swiss competition 2015 at Animatou (international animation festival) Geneva (CH) ,for the student panorama at Animasyros 2015 (Grèce) (out of competition), the student competition of Balkanima (Serbia), the Chitrakatha International Student Animation Festival à Ahmedabad (Inde),Animateka for the European Student Competition. as well as at Animak (Spain) He has also been selected at Tif Vidéo Challenge, screened during the ITFS in Stuttgart in the school programm of Hochschule Luzern D&K, selected for Cinéma City up to 10'000 bucks in Serbia, at the erotic festival Organised Orgasm in Mainz (Germany), in the out-of-competition program "regards" of "39ème Festival du Film Court en Plein Air de Grenoble" (France), at the 9ème festival du film francophone d'Angoulême,competition Valoir René Laloux, Franceat the 22nd International Short Film Festival in Drama, Greece,at festival euroshorts, in Gdansk Poland as well as at Anim!arte,Sao Paolo (Brasil)
Making the design and the story
My first version of the story was about a lonely man living on the sunny side of a mountain whose job was to light up the shadow side. Despite his living at the sunny side, his life in the shadow of the society didn't made him happy. From this story line, I changed completely the storyline and developed an absurd love story. Sartre,love and sausages is about three (at the beginning it was about four) vision of what love is about.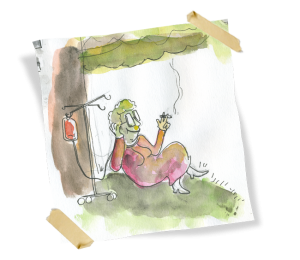 Main characters
On the one hand, we have the butcher. Despite his job, he has a very romantic and naiv vision of love.
Grisélidis, the prostitute has a very cynical vision of love. She chooses her clients (in fact she refuses all of them), like using a dating application. Physical appearance is more important than the psychology: she wants sex without love. As well as the butcher, she is struggles with ideals that she can't find. Finally the butcher and Grisélidis will find each other… in an non-conventionnal way !

The figure of Sartre is an intellectual vision of love. He is trying to describe an abstract concept. But he makes himself ridiculous…
In the first version of the story, there was an old lady. She was the one who has lived the experience of love, life and his absurdity, and had now time, at the end of her life, to feel happiness without thinking about it. It is certainly very hard to introduce four character in a short film (04"37). Unfortunately, I had to make choices and I decided to take her out of the story. But I still hardly regret this …
Production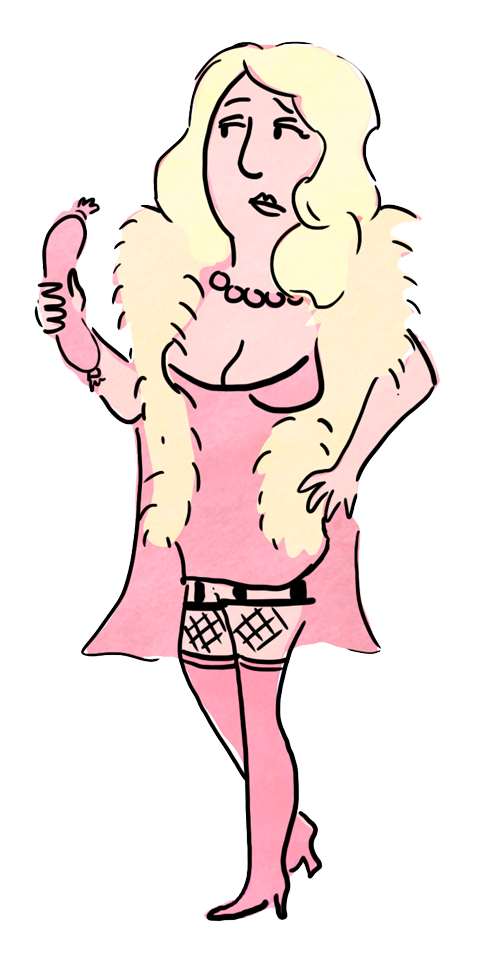 I tried out several designs for the movie. One of the idea was to have CG-backgrounds with 2D characters. I also tried digital cut-out animation. Finally I choosed this very naïve and simple style. After writing the dossier with story-board and budget (the costs for this film, if it has been made under professional conditions, will have been near to 79'845 CHF), I made the layout with CG-backgrounds in order to have a good harmonization through to movie. Each background has been rotoscoped by hand. The music is a composition done by Valeria Schneuwly. Together, we had to take care that story, history and animation matches perfectly together.
Credits
My Film is online since the 14. February 2018 ! You can find it below, just after the trailer… The film is also registrated by swissfilms. But check out on my "news"page, if there are some screenings, it is always better to watch it on theater … Making this movie was a great team work. You will find the complete credits of the film here.

Trailer
Film